Drakes R' Us
Nice job everyone who took the time/effort into getting all 10ppl their Drakes. Ended our 3D spree with our fastest kill yet, 1min 6sec. Well done
PS-Rusted Proto SS soon, gotta get both crews together.
Ulduar
Ulduar (25-player) Cleared.
In addition, we've been cruising through the new Trial of Champions instance, with the available bosses cleared.
And, old news, but we've been flying around on horde-first Rusted Protodrakes for about a month now, and have another group poised to collect theirs within a reset or two. Group pics once they do.
Bad at this game!
Some bosses are really hard, okay?
After a grueling, nailbiter battle we triumphed over our nemesis!
1 more to go!
Took down Mimiron and General V in the same night, NJ all. Next on the hit list, Yogg.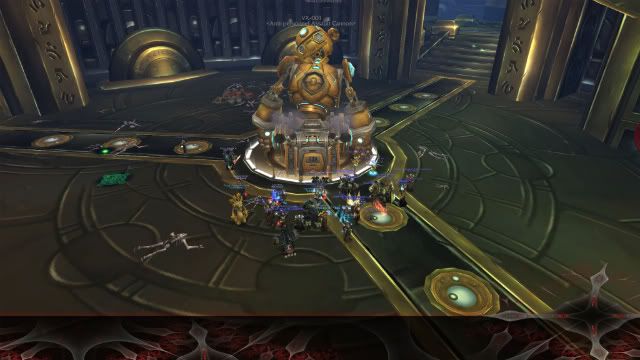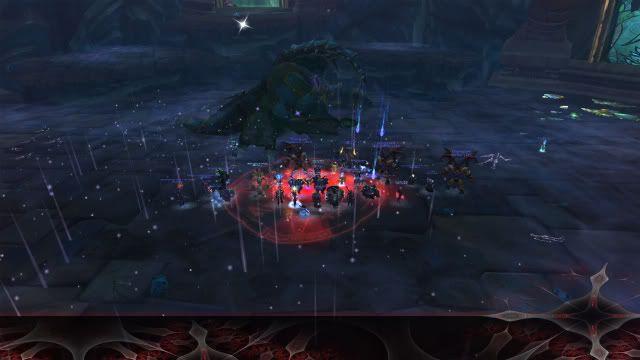 Wrapup
Been remiss in updating things recently.
Both raid groups figured out the balance for gauntlet and arena and knocked out Thorim two weeks ago.
This week a bunch of people helped out performing outside their normal raid role, and we sure appreciate it. Special thanks to our impromptu but marvelous tanks, our dpser-turned-healer, and even our healers-turned-dpser! Check out Lovedr and Yume rocking it on Razorscale and Thorim, respectively. Nerfs plz!

We took some potshots at Mimiron and got everyone some experience with the fight last week. This week we had enough free time to put a little polish on the fight and wrapped it up in 3 takes. I, of course, failed hardcore at taking a screenshot, so use your imagination. I did however manage to take a screenshot while we were grumbling about the copious General Vezax trash. It's not really that bad with all the nerfs it's gotten, but it sure looks scary!
In other news, we've got a few 10-man groups knocking out hard mode encounters: XT-002, Thorim, Hodir, Iron Council. Congrats to them!